Make ahead smoothie packs makes your morning smoothie much faster and easier to prepare.
Frozen Smoothie Packs
As promised, here is my smoothie prep post. I made a total of 57 smoothies spending $74.17, which comes out to $1.30 each smoothie. Much cheaper and healthier than buying one elsewhere. Here's how I did it!
Step 1: Recipes
Skinny Green Monster
1 banana
2 cups spinach
1 tbsp peanut butter
3/4 cup unsweetened almond milk
1/2 cup plain fat-free Greek yogurt
Slammin' Sunrise Green Smoothie
2-3 cups spinach
1 cup unsweetened vanilla almond milk
1-2 cups strawberries
1 cup blueberries
1/2 banana
2 tbsp flaxseed
Green Apple Smoothie
1 cup kale
1 granny smith apple
1 banana
ice
Green Fruit Smoothie
1 cup frozen fruit
1 cup vanilla almond milk
1 handful spinach
1 tbsp flaxseed
Just Peachy Green Smoothie
1 banana
1 cup spinach
2 large peaches
1 3/4 cup unsweetened almond milk
1 cup ice
Double Green Smoothie
1 1/2 cup unsweetened almond milk
1 banana
1 cup kale leaves
1 cup spinach leaves
1/2 cup fruit
Produce
2 2/3 16 oz. frozen peaches, frozen
4 1/4 16 oz. frozen raspberries, frozen
2 2/3 16 oz. frozen strawberries, frozen
4 Bananas $0.86, medium
source:Budget Bytes
Note: When preparing these as frozen packs, you will include everything in a bag except the milk and/or ice. The milk and ice need to be added at the time you blend it to help out with the consistency.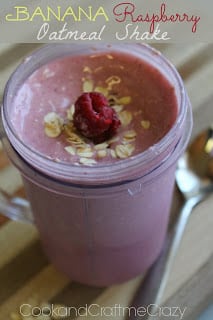 Strawberry Banana Oatmeal Smoothie
Ingredients
1½ c. frozen Banana Slices and Frozen Strawberries
1 c. Milk (we use 1%)
2-3 T. Old Fashioned Rolled Oats